Community Health Updates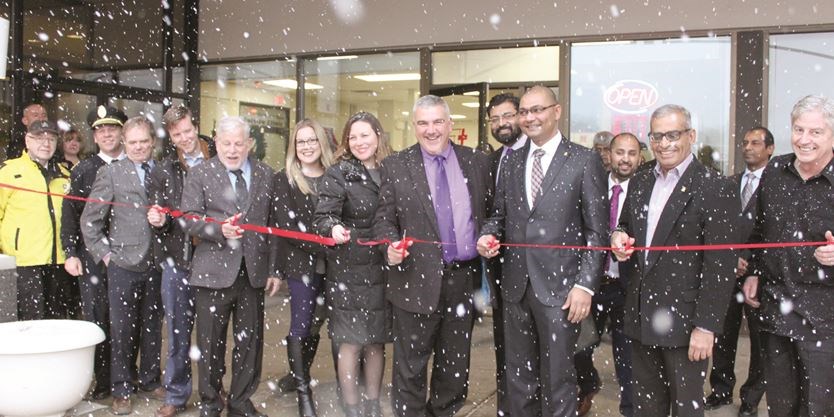 Link to story on Waterloo Chronicle by Samantha Beattie – Dec 14, 2016
"A new walk-in clinic in Waterloo will help students, seniors and everyone in between avoid the emergency room.
"We're just so excited about what's happening here today, it's something every community dreams about, having more medical facilities and better medical facilities," said Waterloo Mayor Dave Jaworsky at the clinic's opening last Friday.
Westmount Place Walk-In Clinic, at 50 Westmount Rd., has good timing. It was ready for business a week and a half after the auditor general's report was released, which described emergency rooms as overcrowded and wait times as too long. Grand River Hospital also recently announced it would be taking the "rare" step of asking for donations in order to hire another emergency room resident.
"We know we are in a crisis from an emergency room perspective if our hospital is fundraising for an emergency room resident," said Waterloo NDP MPP Catherine Fife at the opening.
"Having urgent care centres like this, which are community based, is an important asset we need to have in more communities across the province."
Waterloo Region and Woolwich Township have about 14,000 residents without family physicians, said Ian McLean, president of the Greater Kitchener-Waterloo Chamber of Commerce. While that may seem like a lot, 14 years ago more than 44,000 residents were without family physicians.
"The shortage of doctors was becoming a problem for business leaders looking to recruit and retain talent in the tech sector and also across other industries like accounting, law, banking and insurance," said McLean. "People weren't interested in coming to Waterloo if they couldn't get primary care."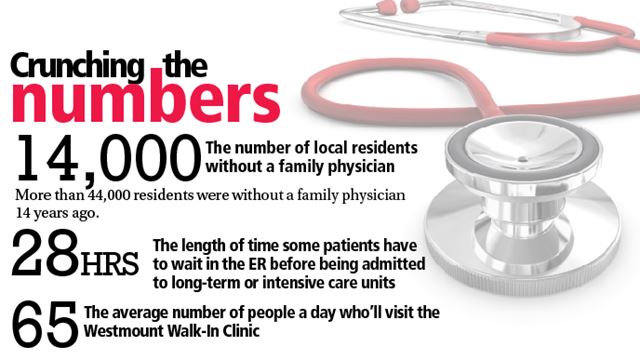 A family physician is the entry point into the health care system. If there's a shortage of those, more people have to resort to the emergency room to treat illnesses and get prescriptions or referrals to specialists.
"More and more physicians are nearing retirement age," said McLean. "We have to recruit seven or eight doctors ever year just to tread water."
And the competition is stiff.
"What we know is when doctors graduate they can go wherever they like. They're in demand across the region, the province, the country and frankly North America," McLean said. "We're competing against everybody."
Walk-in clinics are a kind of a stopgap measure.
"In the tri-city there are deficiencies in family doctor practices," said Rex Mohamed, founder of the new clinic. "Walk-ins bridge that gap and take a load off of emergency rooms."
From running several other walk-in clinics in the Waterloo region, he expects 50 to 80 people will visit the Westmount clinic every day. That's 50 to 80 people who'll avoid the emergency room and free up much-needed space.
Auditor general Bonnie Lysyk reported at the three hospitals she visited, patients were placed on "uncomfortable stretchers or gurneys in hallways and other high-traffic areas that were never designed for patient care."
Nine out of every 10 patients in the emergency room went home after being treated. The majority were released between three and six and a half hours.
But for the one out of every 10 patients who needed to be admitted to the long-term or intensive care units for further treatment, wait times in the emergency room (or in hallways) could be as long as 28 hours.
Dr. Terry Polevoy and Dr. Richard Irvine are among the physicians who'll be working at the Westmount clinic. Both have long careers in medicine and have watched the healthcare system change.
"It's almost impossible for new people to Waterloo Region to find new physicians," Polevoy said. "Luckily for them, they'll find services here." "
Samantha Beattie is a reporter with the Toronto Star.