Community Health Updates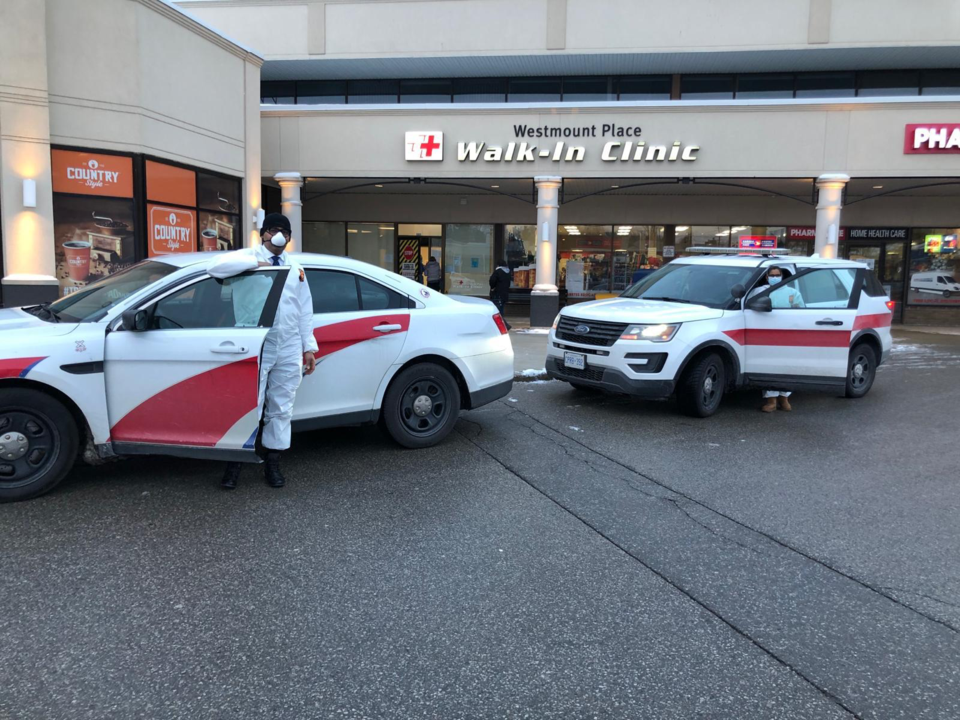 Rashid "Rex" Mohamed is the proud team lead of the KW4 assessment clinic
The last story I covered in-person without a mask was at Regional Council in early March 2020, as the government prepared to implement its pandemic response plan. I shook hands with someone on the way in, and sat maskless, one foot from then Acting Medical Officer of Health Dr. Hsiu-Li Wang for a candid conversation after the meeting. None of these things were out of the ordinary at the time.
A delegate at the meeting caught my ears and eyes, as Rashid Mohamed (affectionately known as "Rex") told council of his walk-in clinics' woes and lack of personal protective equipment (PPE). Rex was not at the meeting to complain, though. Instead, he was there with an offer.
"One of our clinics is well-situated with ample parking spots," said Mohamed in an interview at the time. "It could be a testing centre, it could be a screening centre, however they want to run it. To me, that would be an offer where I'm saying, 'Let's have a centre here, we take the load off the emergency room, and maybe we can also support it to run after hours. Eventually the goal would be to run it 24 hours if we can staff it."
It was not long before the Region would take him up on that, in what would become a difficult but quick process.
"I won't sugar-coat it and say that the process was an easy one," Mohamed told 570 NEWS in a recent interview. "We had a lot of ground to cover in making sure that we had the right procedures in place for the centre, now known as KW4 COVID Assessment Centre."
Swabbing stations had to be set up, staff completely re-trained, and PPE put in place to protect those staff. A shortage of PPE would also not be a problem for long for Mohamed.
"As soon as the word got out that we had a PPE crisis, and we were running out of PPE, the community outreach was so overwhelming," said Mohamed. "We were touched by the amount of people who heard our story and reached out with messages of hope, as well as sending PPE as best as they could."
He also credited Grand River Hospital and St. Mary's General Hospital with their incredible support, both in training and in supplying PPE.
The KW4 assessment clinic also pioneered free transportation for those who needed to be tested, at first renting out a limo service. That plan had to be quickly adjusted as demand shot up. They ended up purchasing other vehicles, including former police cruisers.
That free transportation is now offered across the Region, and they have even provided some trips to Guelph.
It's a good thing that Mohamed offered up his clinic, as demand reached an incredible level at the end of the summer, as the government announced that any COVID-19 symptoms in school children should result in the family getting tested.
"At one point I had to show up with a couple of our team members to try and request people to go away," Mohamed recalled. "We had about 300 or so people lined up outside the clinic in the parking lot, in hope if they were not able to get an appointment."
That clinic alone received some 3,600 calls through the COVID dispatch centre during that time.
Another busy spike was around two weeks after Christmas, where staff pulled double shifts to test twice as many patrons. Mohamed noted that the spike has died back down to the normal level of tests, about 200 per day.
"Every single day, some people say we're crazy, why do we do this," he said. "If we're crazy, then the firefighter is also crazy. He runs into the fire when everyone is running out."
Running into the heart of the crisis was something that Mohamed knew he had to do, with family who helped fight the SARS epidemic 17 years ago.
"We knew kind of what we were getting into, and we said, 'We can do it, let's do it now. And if we all come together, we're going to be able to conquer this virus.' And that's what inspired us."
Mohamed noted that he would be remiss if not to mention those who helped him and his team, with Dr. Heather Dixon and Dr. Joseph Lee being the "backbone" of the operation.
"I want to say a huge thank you to all the people who have helped us in making this project so successful. When I say that all hands were on deck to make this project a 'go,' that would be an understatement. The team support and guidance I've witnessed has been overwhelmingly amazing. I think that, together, we will be able to curb the spread of this virus. And, in doing so, help to keep our community safer. I think seeing as Martin Luther King Day just passed, it would be ideal to end off with a quote by him, in which he has most famously stated, 'Life's most urgent and persistent question is: what are you doing for others?' And I can proudly say my team, my family, and I aided the wonderful and amazing healthcare leaders of this Region, and received the most precious opportunity to help and give back to the community which we are most grateful for."